PRECISION3D DELIVERED
When accuracy matters, organizations rely on Maxar for the trusted 3D foundation of Earth to advance critical and innovative missions.
QUALITY AND PRECISION IN FULL 3D AT GLOBAL SCALE
As the world embraces technological innovations and transitions to immersive, lifelike experiences, a precise, true representation of Earth is needed not only to reflect the terrain in all dimensions but also to provide an accurate foundation for additional data sources.
Whether you are powering your virtual reality application or training your troops with real-life scenarios, you need accurate and precise 3D data that you can rely on, anywhere in the world.
MAXAR IS BUILDING THE GLOBE IN 3D, PAIRING OUR MASSIVE SATELLITE IMAGERY ARCHIVE WITH PATENTED 3D TECHNOLOGY TO PROVIDE THE MOST ACCURATE REPRESENTATION OF EARTH FOR SIMULATION, TRAINING, NAVIGATION, NETWORK PLANNING, GAMING AND OTHER COMPLEX ENVIRONMENTS.
POWERFUL VISUALIZATION IN ACCURATE DETAIL
Distribution of critical medical supplies
When disaster occurs and relief organizations require access to critical medical supplies in areas with limited infrastructure, air travel is often most efficient. Maxar's Precision3D data supports reliable navigation for unmanned aerial vehicles—enabling more effective mobilization of resources.
Immersive simulation and virtual training
Maxar's accurate and realistic 3D representation of global theater environments enable lifelike flight simulations and precise environments to train and simulate mobility and tactical planning anywhere on Earth.
Foundation for digital twins
As the metaverse becomes a reality, it fulfills the promise of enriching our lives and fostering human connections around the world. Maxar is building Earth's digital twin as a foundation to power the real-world metaverse, unifying physical and virtual worlds.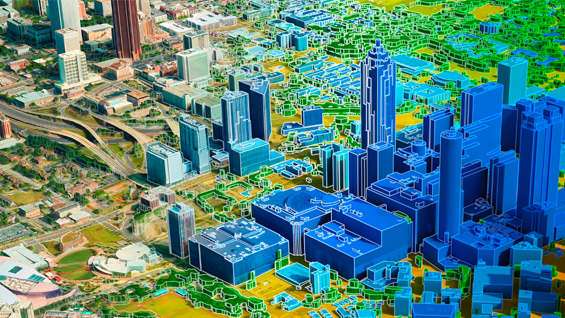 Plans for the networks of tomorrow
Successful planning and deployment for 5G will rely on network models that are based on detailed input geodata covering vast market territories, consisting of accurate buildings and vegetation, over urban and suburban morphologies—in full 3D.
Precision3D Data Suite
Our 3D and elevation models enable you to measure and analyze your projects in 3D for a more complete picture of the situations that matter to your organization.
Learn more
Precision3D Telco Suite
With more connected devices, high-definition content and new services, the demands on networks are accelerating and growing exponentially. The Telco Suite is a cost-effective, next-generation solution that helps you design your networks for optimal performance.
Learn more
Precision3D Registration
Sources for 3D data are expanding daily: Airplanes, drones, cars and people provide new geospatial data to interpret, analyze and share. But for sensor data to align with the real world, it must be georegistered. Precision3D Registration quickly and accurately georegisters your sensor data, anywhere.
Learn more
PRECISION3D DELIVERED FOR YOUR ORGANIZATION'S REQUIREMENTS